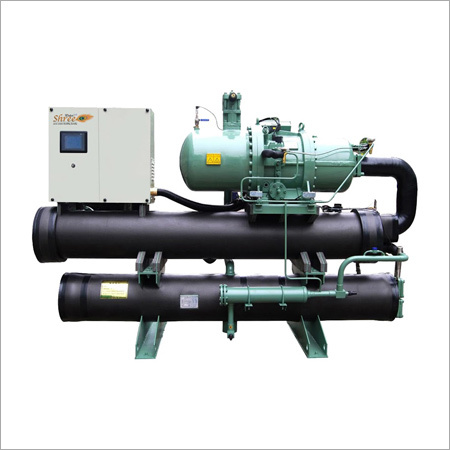 Screw Chiller
Product Code : 21
Product Description
Screw Chillers are are outfitted with successful limit controls. These give incredible range and productivity, making them perfect for different load applications, for example, office spaces, lodgings, healing facilities, shopping centers and multiplexes. The chillers are reasonable for working in extraordinary tropical climate conditions with keeping up vitality and operational productivity. The hardware is composed and fabricated in consistence with predominant outlining and assembling gauges. The Screw Chillers are well tried on all the required global parameters to be at standard with the best.
Screw Chillers is intelligently designed for making it to work as per the requirement.
These chillers are manufactured using high grade material procured from reliable vendors available in the market.
These chillers are developed under the strict observation of quality management department.
All the products are tested as per the quality standards required for manufacturing equipments.

WATER COOLED: We offer a wide range of Water Cooled Screw Chiller (Single Compressor) manufactured using high grade materials.
It is fabricated using screw compressors sourced from bitzer (Germany) and frascold (Italy).
The chillers are available in multiple compressors only in one machine having separate and individual refrigeration circuits.
Designed to meet the set industrial norms, our company is ISO certified manufacturing unit.
It performs the operation using CFC free refrigerants R-407c & R-134a complete with in-built process pump and stainless steel chilled water expansion tank.
Our range is rated for an ambient of up to (+) 50A°c and cooling tower water temperature up to (+) 37°c at the inlet of the condenser.
The equipment is designed using a microprocessor and is suitable for process cooling applications ranging from (+) 20°c up to (-) 40°c
Features
Equipped with in-built oil separator
Tested according with ARI/ European standards
Winding protection with PTC motor
Comprises oil level switch
Contain oil differential pressure switch
Reliable working
Efficient performance
Minimum noise level
Patented profile design
PTC motor available
Winding protection
In-built oil separator
AIR COOLED:-Known for supplying a quality range of Air Cooled Screw Chiller (Single Compressor), our company is carving a niche with each passing day.
Our abided team is putting their full efforts for developing this chiller.
It is designed using microprocessor that is suitable for working at ambient temperature ranging from (+) 20°c up to 40°c and for low lower temperatures of up to (-) 50°c please refer brine chillers.
The supposed screw compressor imported from Bitzer (Germany) and frascold (Italy).
It performs without using CFC refrigerants like R-407c and R-134a and completes it with in-built process pump with stainless steel chilled water expansion tank.
Whole equipment is rated for an ambient temperature upto (+) 50°c.
Features
Ambient performance
Safety against winding
Built-in oil separator
Sturdy design
Tested according standard specifications
Efficient performance
Low noise level
Reliable working
High grade material.
Contact Us
E-2B Madhu Vihar I.P. Extension, Opp. Patparganj Industrial Area,, Delhi, Delhi, 110092, India