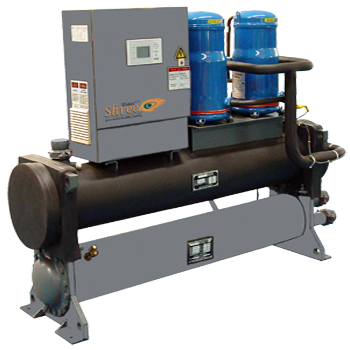 Water Cooled Plant
Product Code : 05
Product Description
Water Cooled Plant is specially designed for energy efficiency, low noise and easy maintenance and compact size which give the same performance for many years. It is Secondary Refrigeration System. In this system chilled water is used as secondary fluid agent. By use of this system you can get fast and quality product even though there is long distance between process instruments to chilling plant. We can minimize the system volume and make compact designed chilling plant, which is very easy to maintain. Requires Less connected power load. The iced water intensively cools the product without any risk. Water Cooled Plant is applicable in Chemical & Pharmaceutical Processing, Plastic Product Processing, Dairy Industry, Mineral Water Industry, Food Processing Unit, Oil Distillation Plant and Hydraulic & Laser Machines.
Water Cooled Chiller is designed following international standards.
It is manufactured using renowned scroll compressors make available from danfoss-maneurop and Copeland.
The design of this is fully microprocessor based suitable for cooling applications ranging from (+) 20°C up to (-) 15°C and for lower temperatures of up to (-) 50°C.
It is engrossed with multiple scroll compressors along with individual refrigeration circuits.
Thus, is rated for an ambient of up to (+) 480c and cooling tower water temperature up to (+) 37°c at the inlet of the condenser.
The clients have an option of using CFC free refrigerant R-407c & R-134a along with in-built process pump and stainless steel chilled water expansion tank.
Features
Ergonomic design
Low input KW/TR
Sturdy construction
Heat exchanger designed as per TElvlA/ASME/SEC VIII, DM, 2001
Latest technology
MCS microprocessor/PLC based/ electro mechanical
CFC free refrigerant
Liquid injection for maximum compressor life
Energy efficient
Easy-to-use.
Contact Us
E-2B Madhu Vihar I.P. Extension, Opp. Patparganj Industrial Area,, Delhi, Delhi, 110092, India